For Business | Member Engagement Packages
MAXIMIZE PROGRAM
UTILIZATION

Below you'll find targeted, product-specific Engagement Packages designed to help members get more from their benefits. Packages are organized thematically, each containing several assets, so you can deliver a multi-touch campaign that perfectly complements our ongoing member email sequence. Within each package you'll find a calendar to synchronize your communications with HealthEquity emails to deliver the right message at the right time.
Each package includes:
Digital Signs

Digital Ads

Flyers

Postcards

Posters
Each package includes:

Digital Signs

Digital Ads

Flyers

Postcards

Posters
Digital Signs
Digital Ads
Flyers
Each package includes:

Digital Signs

Digital Ads

Flyers

Postcards

Posters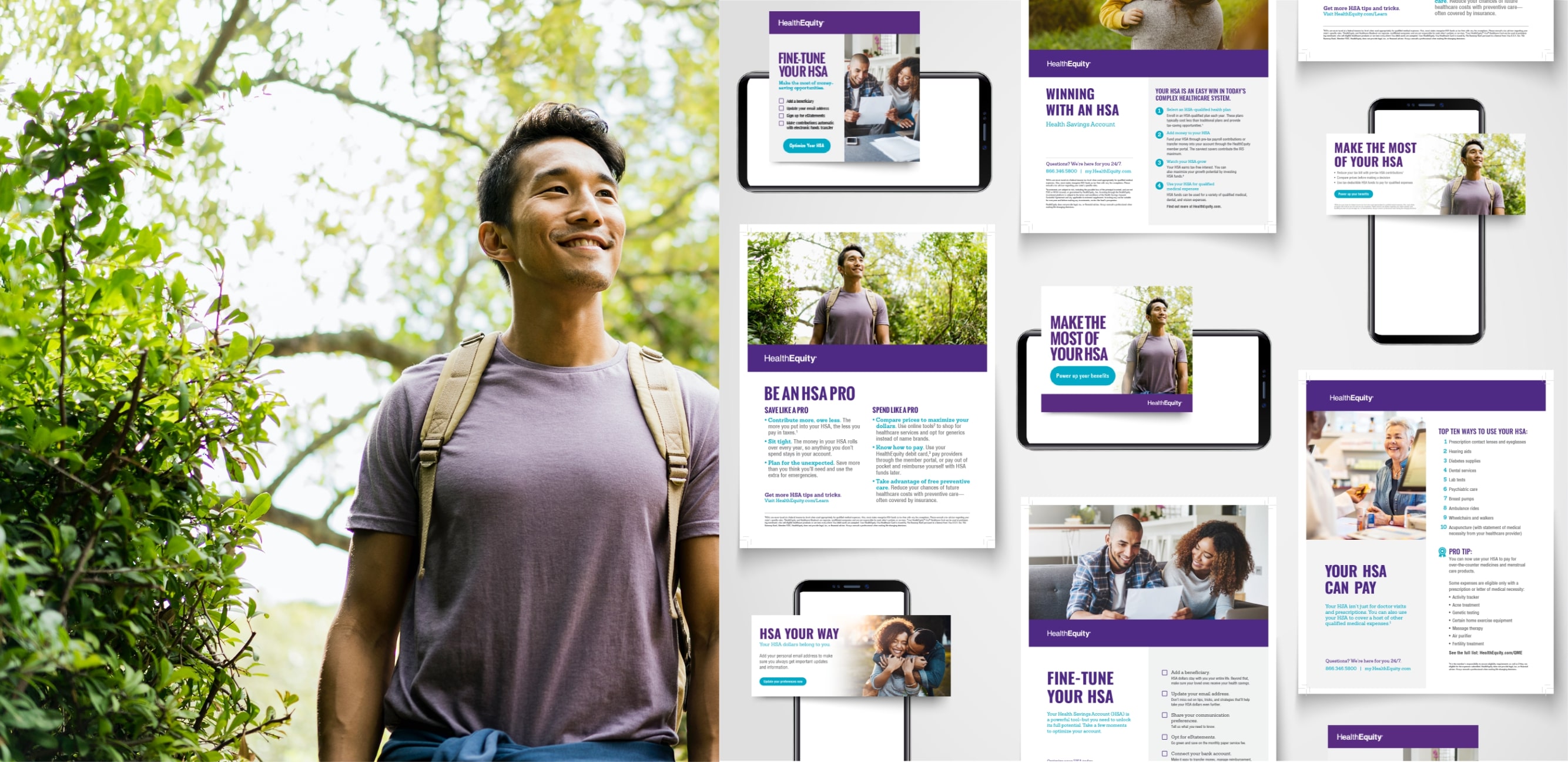 HSA Package 1
Promote account optimization
HSAs are powerful tools, but members need to learn how to use their accounts most effectively. This package explains the basics, showing members everything they need to save and spend with total confidence.
What's inside:
Welcome series

Account setup

Reimbursement basics

Savvy healthcare consumerism

Strategies to save more
HSA Package 2
Maximize contributions
Saving with an HSA is a habit that requires ongoing nudging and practice. This package shows members the power of their HSA and helps propel them on the journey to long-term health and financial wellbeing.
What's inside:
The power of triple-tax savings

Strategies to spend smarter

Building an emergency safety net

Tools to accelerate health savings
HSA Package 3
Encourage investing and retirement readiness
Most members don't know that HSA investing is an option—let alone how to do it. This package is designed to introduce members to HSA investing and includes strategies to maximize long-term account growth.
What's inside:
Using the HSA Investment Desktop

Understanding compound growth

Comparing retirement accounts

Managing your portfolio
FSA Package
BOOST ACCOUNT UTILIZATION
FSAs are not complicated, but there are tricks to maximizing account value. This package walks members through the FSA experience step by step, offering strategies to spend smarter and stretch every dollar further.
What's inside:
Account setup and optimization

Balance management

Simplifying reimbursement

Qualified medical expenses

And more
DCFSA Package
SIMPLIFY DEPENDENT CARE
Help your people provide support and care to their loved ones. This package offers practical, real-world strategies that make it easy to maximize DCFSA value. We'll share account management best practices and explain how to get more from every dollar.
What's inside:
Account setup and optimization

Payments and reimbursement

Spending ideas

Back-to-school prep

Year-end tips

And more
Benefits leader bootcamp
Not sure where to start? Take a few minutes to get oriented to all the tools and resources we offer.
Learn how to navigate your account

Simplify your workflows

Understand our proven approach to member engagement
Get started
hands-on support
Effective member engagement involves a lot of moving parts. You don't have to do it on your own. Let us help.
Contact your Relationship Manager to get started.
Not a Client?
Explore Engage360
Health Savings ScoreTM
HealthEquity uses proprietary analytics to give clients unprecedented insight to program performance. We'll help you benchmark against industry peers and identify opportunities to improve utilization.
Learn more
Best Practices
When it comes to benefits administration, there's always something new to learn. Participate in our ongoing webinar training events. You'll learn strategies, insights and best practices that will help you shine in your role.
Start learning
Open enrollment toolkit
Tap into our library of flyers, webinars and other collateral. From new hires and qualifying life events to the critical communications before and during the annual enrollment window, we'll help you drive adoption at every opportunity.
Explore the toolkit
---